If you have completed Quest #1, you are only a step closer to becoming a Medieval Master! Quest #2 is awaiting you, so step through the second gate and be prepared...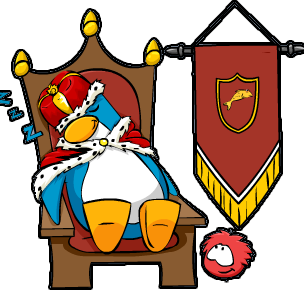 ...Once you enter the gate you will be in a room with some statues and fire. When snow beats fire, the way will open. If you haven't played Card-Jitsu, this will be quite complicated. Snow Beats Fire because it melts it, so how do you get the fire to go? Throw snowballs at them! Hold down T on you keyboard and click on the fire rapidly with your mouse. Now you can move on to the next room...
...This room can be quite a challenge for many penguins. You have to get the key from its starting position to the padlock. They are all different, so try experimenting!
Look, don't be fooled! Use the blocks to help you get around, think about how you could get the key from one end to the other...
...Once completed you will have to waddle over a bridge to the dragon. Ignore the signs, and pick up a free item while you're at it!
...Now, this dragon is very powerful (even though if you pulled the plug out of the socket it would power down.) You will have to defeat it! Look at the sign and follow the instructions. Throw snowballs into the cannon and then press the button when the dragon gets close. Throw snowballs at the dragon's nostrils to stop him from breathing fire!
...Finally, you now come to the end of Quest #2! Collect as many gold as you want and pick up the toothbrush pin, but remember that you can only fit 99 peices of gold in your igloo! I made this mistake in 2010 by collecting 247 peices of gold and I couldn't fit them all in my igloo, but it will earn you a stamp if you fill it up!